The grounds for divorce in Michigan are simple. One party must allege that there is a breakdown of the marriage, the objects of matrimony are destroyed and there is no likelihood that the marriage can be saved. The grounds for divorce is what makes Michigan a no-fault divorce state. As a no-fault state, some people think fault does not matter. The fact remains that fault matters in a Michigan divorce case. It can effect property division, alimony and in some instances child custody.
GET ANSWERS NOW! REQUEST A FREE CONSULTATION
Divorce planning
If you are thinking about divorce you should have a divorce plan. A divorce plan includes setting obtainable goals. There is no one size fits all answer to divorce planning. The divorce plan for a primary wage earner is often different than the divorce plan for a dependent spouse.
How long does it take to get divorced?
A Michigan divorce can be completed in as early as 61 days without minor children. The waiting period for a divorce in Michigan with minor children is 180 days. In some instances, a Judge will waive the 180 waiting period for a divorce with minor children. The 60 day waiting period for a divorce without minor children cannot be waived.
Divorce in Michigan – the process
We produced a great video on the divorce process. Understand the Michigan divorce process in 5 easy steps.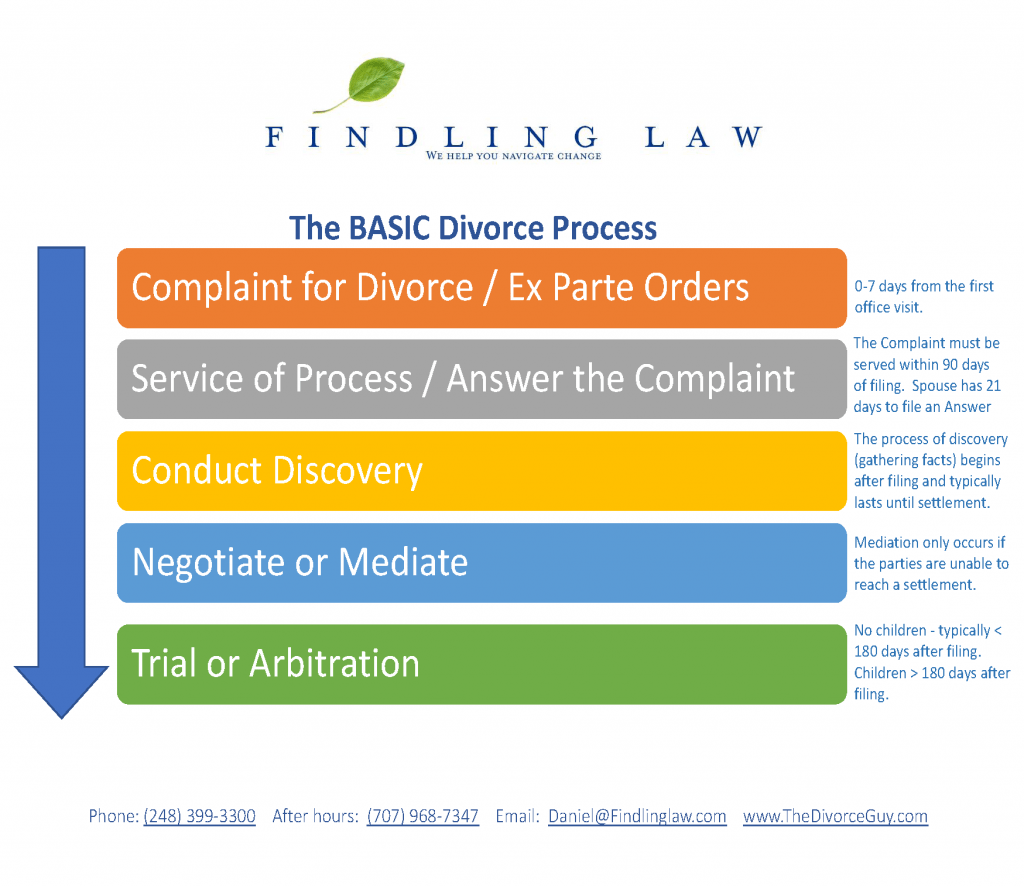 Child custody
Child custody in Michigan does not have to be complex. We have got you covered from the basics to the details. You can follow this link and explore our child custody resources from the basics to the nitty gritty details.
Alimony (spousal support)
Under Michigan law alimony (spousal support) is a legal obligation to provide financial support to a dependent spouse. Alimony is not awarded in all cases. We invite you to explore our Michigan alimony knowledge base by clicking here.
Property Division
Property division will include the division of assets and liabilities. Most everything you have is property including real estate, retirement accounts, personal belongings, automobiles, stocks, accounts, retirement and debts. You can follow this link for more information on how to divide property in a Michigan divorce case.
Retirement accounts
Retirement Accounts come in all shapes and sizes. Michigan law provides for the division of a retirement account if the account was earned during the marriage. Earnings before or after marriage are considered separate property.
In fact, we provide more information on Michigan divorce and family law than any other law firm and invite you to explore our knowledge base or by clicking one of the following icons.
About Findling Law

Phone:+1 (248) 399-3300
After hours emergency?+1 (707) 968-7347
Email:Daniel@Findlinglaw.com
I have been exclusively practicing divorce and family law in Michigan for over two decades. The Oakland County Divorce attorneys at Findling Law practice statewide. We share the core value of practicing law to help people navigate change in their lives, without compromising principles. We specialize in high socio-economic, high-profile and high-conflict cases, while also working with clients of all backgrounds. We recognize that the most important aspect of the practice of law is the application of the law to your specific circumstances.That is why we provide more free information on divorce and family law than any other Michigan law firm. We want to help you manage your situation. Allow our exceptional legal team to help you navigate the change in your life, without compromising principles.
By: Daniel Findling