"Sometimes you chase your passion, other times your passion chases you.  This is my passion." – Daniel Findling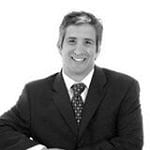 I am Daniel Findling, owner and managing director of Findling Law and curator of TheDivorceGuy.com.
When I went to law school, I never imagined that I would practice divorce and family law.  I graduated in the top of my class with honors and wanted to be a trial lawyer.  Divorce and family law just seemed boring.
Shortly after I began practicing law, I was part of a legal team that obtained a five million dollar jury verdict in Federal Court.  My portion of the legal fee was several hundred thousand dollars.  I was in it big time.  I bought my wife a Cartier watch and looked forward to the next multi-million dollar verdict.
I was also miserable.  The Federal case left a bitter taste in my mouth.
I began searching for my passion in the law.  I practiced criminal law, business law, probate law, and business law finding success in every area without reward.  I started to handle divorce, custody and family law cases.  I left Federal court with experience and skills very few young lawyers have when starting their career.  I decided to apply these skills in my divorce and family law practice finding both personal and professional success.  It took some time for me to realize that I found my passion.
I thought to myself, what if I could take the skills I have learned as a trial lawyer and bring them to divorce and family law cases?   What if I could use my skill set to give people a voice so they can be heard, providing counsel and guidance without passing Judgment?  I firmly believe that everyone has a right to be happy and a right to be heard without passing Judgment.
My practice has grown exponentially because we provide excellent representation and are empathetic to our client's needs.  We have a great team!
We are NOT AFRAID to go to trial, which is why we SETTLE most cases and our fees our reasonable.
Almost 20 years ago I made the decision to specialize in Divorce and Family law.  My friends and co-workers thought I was crazy.  I knew better.  I figured, sometimes you chase your passion and other times your passion chases you.
I was raised in a divorced family from the age of 8, my father having sole physical custody of four children in the 1970's (which was not common then).  I am married with three beautiful children.  I enjoy spending time with my children, am an avid private pilot and camper.
My goal is to help you achieve your goals and provide you with an opportunity to learn and grow during this transition into a new phase of life.  Let my team help you manage your situation.
About Findling Law:
I have been in practice for almost 20 years and practice exclusively in divorce and family law.  My practice includes several attorneys who share the core value of practicing law to help people navigate change in their life, without compromising principles.  We have extensive experience in high socio-economic, high profile and high conflict cases which has nurtured a skill set applicable to all divorce and family law cases regardless of socio-economic status.  We recognize that it is the application of the law that is most important aspect of practice.  That is why we provide more free information on divorce and family law than any other Michigan law firm.
We want to help you manage your situation. Let our exceptional legal team help you . . .
REQUEST A FREE CONSULTATION,GET ANSWERS NOW!
Local: +1 (248) 399-3300 – toll free:   (877-YOUR FIRM)
After hours emergency?:  +1 (707) 968-7347
Or email me at:   Daniel@Findlinglaw.com
By:  Daniel Findling