Although the decision to divorce may not be easy, the basic documents to file divorce in Michigan are not complicated. In fact, most of the documents are available online and free from the Michigan State Court Administrative Office ("SCAO"). The SCAO provides basic forms to help people representing themselves navigate the court system.
GET ANSWERS NOW! REQUEST A FREE CONSULTATION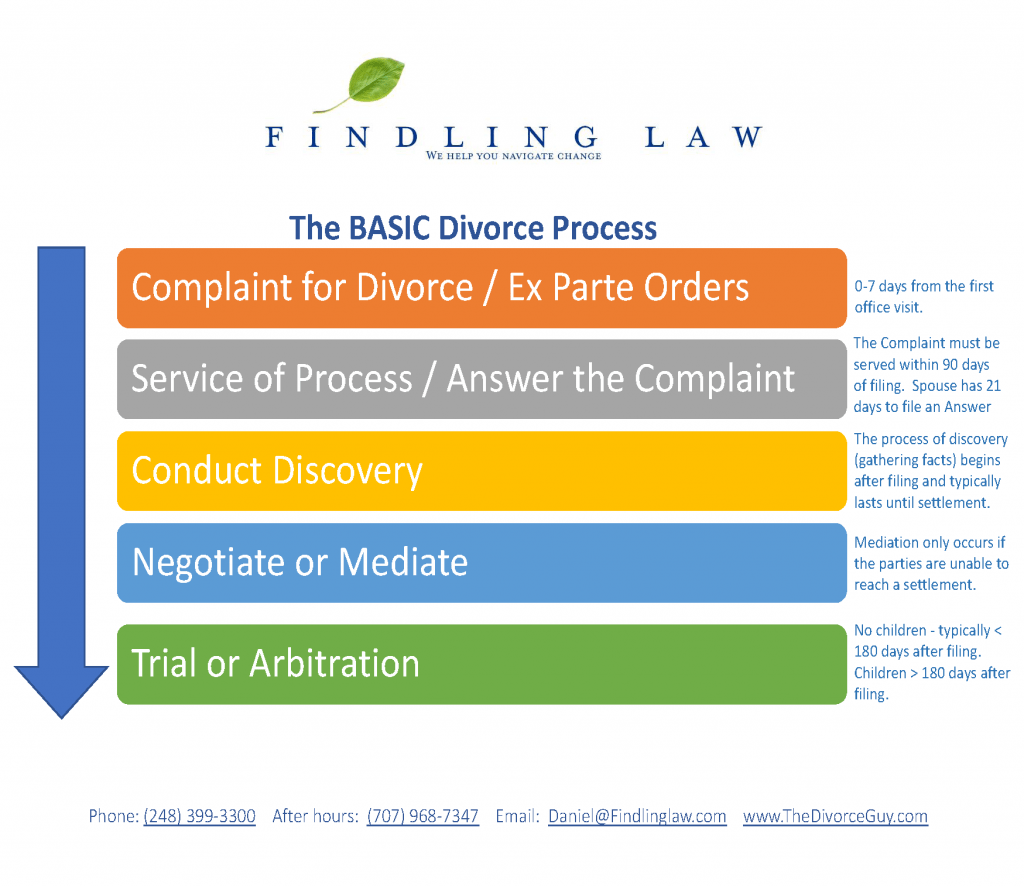 Most Michigan divorce cases require specialized attention. While a basic "form divorce" may be suitable for a short-term marriage with nothing to divide. Special consideration should be given to more complicated cases. For example, the division of a business, retirement accounts or real estate require special care and attention that cannot be assured by filling out forms. In addition, custody determinations, status quo orders and restraining orders may be compromised by using SCAO forms which is why the Michigan divorce lawyers at Findling Law draft every divorce form in accordance with our client's needs and goals.
How to file divorce in Michigan in three steps?
Step #1: Prepare a Summons
A summons is an official court document that informs the other party that they are being sued. The summons form is drafted by the Michigan State Court Administrative Office ("SCAO")
Step #2. Prepare a Complaint for Divorce
A Compliant for Divorce in Michigan must include language the following language:
"There has been a breakdown of the marriage relationship that the objects of matrimony have been destroyed and there remains no reasonable likelihood that the marriage can be preserved."

MCL 552.6
This language is called the no-fault divorce language and can be found in Michigan Compiled Laws 552.6. The statute further provides that:
"In the complaint the plaintiff shall make no other explanation of the grounds for divorce than by the use of the statutory language."

MCL 552.6
At Findling Law, we customize the Complaint for Divorce to our client's needs. However, that does not mean it has to be complicated. In fact, for simple divorce cases, we have prepared a sample Complaint for Divorce for clients to reference.
Step #3: File the Complaint for Divorce. In order to file for divorce in Michigan, one party is required to be a resident of the State of Michigan for a minimum of 180 days. The divorce is filed in the county were the person filing for divorce has lived for at least 10 days prior to filing for the divorce. The jurisdictional residency requirement can be found in Michigan Compiled Laws 552.9. The Complaint for Divorce must be filed in the County in which you reside. There is filing fee that differs for divorce cases involving children and divorce cases without children.
Now that you know how to file a divorce in Michigan, it is important to understand the importance of competent proper representation. I have been exclusively practicing divorce and family law in Michigan for over two decades. The Oakland County Divorce attorneys at Findling Law practice statewide. We share the core value of practicing law to help people navigate change in their lives, without compromising principles. We specialize in high socio-economic, high-profile and high-conflict cases, while also working with clients of all backgrounds. We recognize that the most important aspect of the practice of law is the application of the law to your specific circumstances.That is why we provide more free information on divorce and family law than any other Michigan law firm. We want to help you manage your situation. Allow our exceptional legal team to help you navigate the change in your life, without compromising principles.
By: Daniel Findling
Phone:+1 (248) 399-3300
After hours emergency?+1 (707) 968-7347
Email:Daniel@Findlinglaw.com