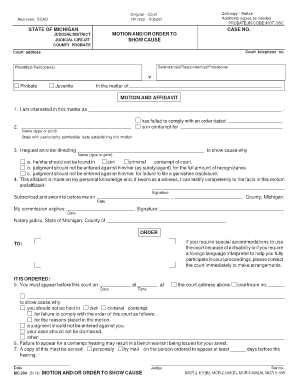 Ever wonder how a court enforce's its orders?  One answer is a show cause hearing.  A show cause hearing asks the question:  "Why shouldn't the court hold you in contempt of court for violation of the court's order?"  
GET ANSWERS NOW! REQUEST A FREE CONSULTATION
At a show cause hearing, the burden is placed on the person suspected of violating a court order to prove otherwise.  Oh and if you fail to appear at the show cause hearing the court may issue a bench warrant for your arrest.
Contempt of court is a very serious matter and a show cause is one way to compel compliance with a court order.  At the hearing a court may grant additional time to comply with the order (if there is a good reason to do so).  However, the court can also issue a fine, sanction and jail for serious violations.
So what should you do if you are served with an order to show cause?  The answer is simple, if you can comply with the order do it.  If you cannot, call your lawyer to file a response and prepare an appropriate response.
If you are trying to enforce an Order you can request a show cause hearing by filing a Motion and Order to Show Cause with a supporting Affidavit.  
In Michigan divorce and family law matters a show cause hearing is typically brought to enforce issues related to the divorce such as:
Non-payment of child support;

Non-payment of alimony;

Non-payment of court costs;

Non-payment of a debt awarded;

Failing to comply with a custody or parenting time order; and

Failing to comply with a property award.
To avoid a show cause and risk being held in contempt of court follow these simple guidelines:
If you are ordered to do something, do it!  If for any reason you cannot, discuss with your lawyer your options; and

Keep accurate records.
On the other hand, if you are trying to enforce an order a show cause is an important tool used to accomplish this goal.
We are here to help you navigate this journey by focusing on your goals.  If you have any questions concerning any aspect of the law, let me know. My direct line is 248-399-3300 or toll free: 877-968-7347.
About Findling Law
I have been exclusively practicing divorce and family law in Michigan for over two decades.  The attorneys at Findling Law all share the core value of practicing law to help people navigate change in their lives, without compromising principles.  We specialize in high socio-economic, high-profile and high-conflict cases, while also working with clients of all backgrounds. We recognize that the most important aspect of the practice of law is the application of the law to your specific circumstances.
That is why we provide more free information on divorce and family law than any other Michigan law firm. We want to help you manage your situation. Allow our exceptional legal team to help you navigate the change in your life, without compromising principles.
We want to help you manage your situation. Let our exceptional legal team help you . . .
Local: +1 (248) 399-3300 – toll free:   (877-YOUR FIRM)
After hours emergency?:  +1 (707) 968-7347
Or email me at:   Daniel@Findlinglaw.com
By:  Daniel Findling