When a couple dissolves their relationship,  property division can be one of the most important and complicated issues. Property division includes both assets, (such as real estate, personal belongings, automobiles, stocks, bank accounts, pensions), as well as debts.  Your Michigan Divorce Lawyers have the answers you need.
Let our exceptional legal team help you . . . ,
In addition to the general rules of property division, a competent divorce lawyer will also take into considerations the tax consequences and present/future value of an asset or liability to benefit his/her client.  For example, it is not appropriate to exchange a tax deferred asset, such as an IRA or a 401(K) with a cash asset like equity in a home, without understanding and "tax-effecting" the assets.
What property is divided in a Michigan Divorce?
Courts distinguish between marital property and separate property.
Separate property is typically property acquired before the parties married.
Marital property is typically property acquired during the marriage.
Michigan has adopted a doctrine called the doctrine of non-invasion of separate property. As a general rule, separate property (before marriage) is awarded to the party who owned the property prior to marriage, unless the other party substantially contributed to its acquisition or appreciation or the estate is otherwise insufficient. (For example, if you purchased your home before marriage, the increase in value of the property during the marriage will often be considered marital.)
Defining specific property as marital, separate or both can have a significant impact on a property award.  Michigan divorce law provides many exceptions to these general rules.
Exceptions to the general rules:
Lawyers love exceptions, and Michigan divorce property law has plenty of them.  For example, property that is acquired during cohabitation is generally not considered marital property (Reeves vs.  Reeves).  However, pre-marital contributions towards property acquired before marriage that are also "readily traceable to a separate source" may be considered marital property under another exception to the doctrine of non-invasion of separate property.
So which is correct, the answer is both.  Property acquired during cohabitation may become marital property if the property is readily traceable to a separate source.  Therefore, if you put a down payment on your home before you married, you generally will get it back unless it was commingled and no longer "readily traceable to a separate source". This occurs in instances where the parties have refinanced a home, or sold a home to purchase another.
On the other hand, if you contributed to a home before marriage that is in the name of your spouse, the home may still be considered marital property.
Another common exception deals with when a marriage ends for property division purposes.  The majority view is that property division is from the date of marriage to the date of divorce (Byington vs. Byington). However, some court's utilize when the parties separate or manifest an intent to live separate lives (Wilson vs. Wilson)
Separate property can also become marital property, if the estate is insufficient for the suitable maintenance and support of the other party.
Other exceptions to the general rules set forth above include active vs. passive appreciation, gifted property, inherited property, and commingled property.
 Passive appreciation is generally considered separate property under Michigan divorce law.  (e.g. a CD)
 Active appreciation is generally considered marital property under Michigan divorce law.  (e.g. a managed brokerage account or 401(k) where trades were made during the marriage.
Gifted and inherited property is generally considered separate property under Michigan divorce law.
Commingled separate property can become marital if the property is no longer "readily traceable to a separate source".
Skilled lawyers apply the exception's to these general rules.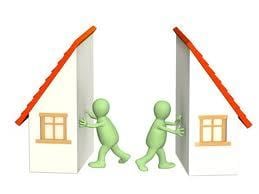 How is the property divided?
Michigan divorce law promotes an equitable distribution of property. There is no requirement that property awarded to each party be equal, but at a minimum should be fair.  Our Michigan divorce attorneys know the rules, and will help you understand them.
How is property division determined?
In determining the distribution of property in a Michigan divorce, your divorce lawyer will advise you that the courts take the following into consideration:
The source of the property;
Who contributed toward the acquisition of the property;
The length of the marriage;
The needs of the children, if any;
The earning powers of the parties;
Who is "at-fault" or "caused" the Divorce.
The health of the parties
The age of the parities.
Skilled Michigan divorce lawyers also use various techniques to help their clients including valuation methodologies and tax effecting assets.  Sometimes, your Michigan divorce attorney will recommend hiring an expert to help tax effect or value certain assets.
We want to be here for you.  If you have a question about how Michigan divorce law would apply to your situation, call, email or set up a confidential consultation with your Michigan divorce specialists.  We are ready to help.
Michigan Divorce Property Articles by The Divorce Guy.
Michigan property statutes and relevant case law:
MCR 3.211(A).  Requires that a Judgment of divorce must address these property interests:
A division of the real and personal property brought to and acquired during the marriage as well a the parties debts.  MCL 552.19, .23, .101, .103, .401; MCR 3.211(B)(3)l Yeo v Yeo, 214 Mich App 598.
A statement confirming that the divorce judgment terminates each spouse's interest as a beneficiary in life insurance on the other spouse's life or providing otherwise.  MCL 552.101(2)-(3); MCR 3.211(B)(1)
A determination of the rights of both spouses in pension, annuity, or retirement benenefits.  MCL 552.101(4)l MCR 3.211(B)(2)
MCL 552.22:  The court may require the disclosure of property interests under oath.
Leverich v Leverich, 340 Mich 133 (1957):  Marital property is property accumulated through the joint efforts of the parties during their marriage.
Byington v Byington, Generally marital property includes any property accumulated up to the date of the judgment of divorce.
Wilson v Wilson, Marital property includes property acquired until the parties manifested an intent to lead separate lives.
MCL 552.401:  Statutory exception to the doctrine of non-invasion of separate property.  (1)  Has the claimant spouse contributed to the "acquisition, improvement or accumulation of the property.
MCL552.23:  MCL 552.401:  Statutory exception to the doctrine of non-invasion of separate property. (2) The award to the claimant spouse from the marital assets is "insufficient for the suitable support and maintenance of the claimant and any children in his or her care.
Dart v Dart, 460 Mich 573 (1999):  Under most circumstances, property received by a married party as an inheritance but kept separate from marital property is considered separate property and not subject to distribution.  Court's still have discretion to award a portion to the non-owner spouse upon showing of contribution or need.
Bone v Bone, 148 Mich App 834 (1986):  A spouse's separate assets or appreciation in their value may be included in the marital estate.
Sands v Sands, 192 Mich App 698 (1992)  Where a spouse attempts to conceal assets are persistent and repeatably in contempt of court, it is abuse of discretion for a trial court not to take punitive action.

Sparks v Sparks, 440 Mich 141 (1992)  The court must use its discretion to divide property equitably under all the circumstances, while there is no rigid formula the court must consider the duration of the marriage, the contribution of the parties, the age of the parties, the lifestyle of the parties, the necessities and circumstances of the parties, the paste relations and conduct of the parties.
Reeves v Reeves, 226 Mich App 490 (1997) Active appreciation of separate property is typically considered marital property;  passive appreciation remains separate property.  An increase in value of an asset during the marriage can be a marital asset.
Magee v Magee, 218 Mich App 158 (1996) Pensions are considered part of the marital estate and should be divided as part of the property settlement.
Everett v Everett, 195 Mich App 50 (1992)  Vested stock options are a marital asset and may be divided as part of the property settlement.  Non-vested options should be valued differently.
Postill v Postill, 116 Mich  App 578 (1982) A tort lawsuit and any damages is property and therefore is subject to division in a divorce proceeding.
Bywater v Bywater 128, Mich App 396 (1983) A personal injury award for pain and suffering is personal to the injured party and should be taken into account in the same manner as separate property.
By:  Daniel Findling
The Divorce Guy, Michigan Divorce Attorneys and Specialists
877-YOUR FIRM
Google+